Press Releases
Canada Carbon Provides Scanning Electron Microscope Images of Miller Hydrothermal Graphite Crystals
April 29th, 2014, Vancouver, BC, Canada – Canada Carbon Inc. (the "Company") (TSX-V: CCB) is pleased to present these Scanning Electron Microscope (SEM) images of its Miller hydrothermal graphite crystals, provided to it by the El Segundo, California laboratories of Evans Analytical Group. These micrographs clearly reveal the highly crystalline nature of the Miller graphite, evidenced by both the platy shapes of the crystals, and their highly organized layered structure, in a way that is now clearly visible to the naked eye.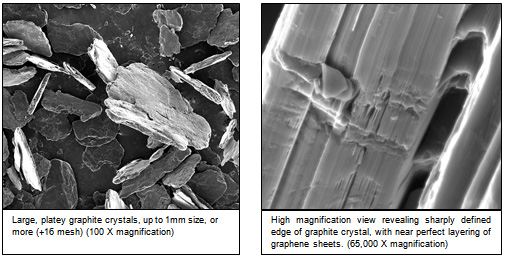 These, and other high-resolution SEM images of the Miller hydrothermal graphite, can be viewed at http://canadacarbon.com/scanning-electron-microscopy
Executive Chairman and CEO Mr. R. Bruce Duncan stated, "On February 4th, we announced that further characterization testing of the Miller graphite was underway, and we are pleased to provide these SEM images of the graphite crystals. These SEM images verify the old saying that, 'A picture is worth a thousand words.' The near-perfect layering of graphene molecules which make up these graphite crystals can be clearly seen.
The graphite submitted for SEM imaging was from the same sample which achieved 99.9978% Cg purity after rapid thermal upgrading (please refer to the news release dated December 12, 2013). Graphite crystals in this sample were from the +48 mesh fraction (analogous in size to "jumbo flake") from a flotation concentration trial conducted in July 2013 by SGS Laboratories, of Lakefield, Ontario. We believe that achieving 99.9978% Cg, while retaining the inherent crystalline nature of our Miller graphite, is unprecedented."
Further graphite characterization results are expected shortly, and will be reported when received.
SGS Laboratories is currently processing a 50 kilogram composite of the Miller graphite, with a view to developing a flotation concentration flow-sheet which optimizes the preservation of the crystalline graphite structure, as well as particle size, in order to maximize the potential economic value of this high-purity graphite. Once these optimization criteria are determined, the scale-up to pilot plant design will commence.
Rémi Charbonneau, Ph.D., P. Geo #290, an Associate of Inlandsis Consultants s.e.n.c. acting as an Independent Qualified Person under National Instrument 43-101 for the issuer. Dr Charbonneau states, "I welcome these newly acquired SEM images which tend to reveal that graphene may be present in the lattice of graphite crystals from the Miller Project. This is a significant step toward the production of graphene from vein type graphite and the upcoming detailed report from El Segundo Laboratories will detail the inference with the high crystallinity indicated by Raman Spectroscopy (see February 4, 2014 press release)."
On Behalf of the Board of Directors
CANADA CARBON INC.

"R. Bruce Duncan"
CEO and Director
Contact Information
E-mail inquiries: info@canadacarbon.com
P: (604) 638-0971
F: (604) 638-0973
"Neither TSX Venture Exchange nor its Regulation Services Provider (as that term is defined in the policies of the TSX Venture Exchange) accepts responsibility for the adequacy or accuracy of this release."
FORWARD LOOKING STATEMENTS: This news release contains forward-looking statements, which relate to future events or future performance and reflect management's current expectations and assumptions. Such forward-looking statements reflect management's current beliefs and are based on assumptions made by and information currently available to the Company. Investors are cautioned that these forward looking statements are neither promises nor guarantees, and are subject to risks and uncertainties that may cause future results to differ materially from those expected. These forward-looking statements are made as of the date hereof and, except as required under applicable securities legislation, the Company does not assume any obligation to update or revise them to reflect new events or circumstances. All of the forward-looking statements made in this press release are qualified by these cautionary statements and by those made in our filings with SEDAR in Canada (available at www.sedar.com).