Specialty Products
Since the 18th century graphite has been used for its widely known application, the production of pencils. Graphite still remains the central raw material both in the traditional wood pencil and in the modern fine-lead pencil that requires highly sophisticated production technologies. Today the use of graphite has advanced in a number of new graphite specialty products including, but not limited to: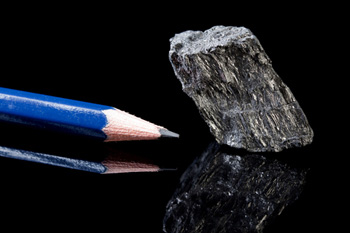 Expandable graphite
When heated the crystalline structure of natural graphite undergoes an expansion volume that can be as high as 350 times its original volume. This makes it amenable to a wide variety of treatments and applications. In plastics for example it is used to provide flame-retardant properties. In other applications such as compressed rings, products are made of 99.85% expanded graphite without the addition of any binders or additives. Graphite in these applications offers high compressibility; low friction coefficient; high self-lubricating capabilities; good chemical and thermal resistance and inertia; is non-flammable; and provides EMI shielding and high thermal conductivity.
Graphite Foils
Graphite foil is an excellent sealing material for high temperature, high-pressure transfer of liquids, gases, steam, chemicals and corrosives. It is manufactured from high purity, high crystalline natural graphite flakes, which are processed into continuous foil by a special acid and thermal treatment to produce expanded graphite crystals. The expanded graphite crystals are then formed into foil through an extensive calendaring process without any resins and binders. Graphite foils can be found in the following applications:
Heating elements and heat shields for high-temperature applications
Linings for melting crucibles and casting molds
Facings for hot pressing molds
Backing strips for soldering, welding and sintering work
Base material for vapor phase deposition of metal films
Protective material against laser beams
Packings and gaskets for hot gases, melts and heat transfer oils
Polymers
Graphite additives in plastics can have many functions: they can offer thermal and electrical conductivity; flame-proofing; improved lubrication; corrosion protection; IR absorption; shielding against electromagnetic radiation; and act as an internal lubricating agent. In many cases the combination of these different effects is an attractive quality provided in one source of raw material.
Graphite in polymers is added to phenolic resins, thermal set resins, epoxies, rubber, and polystyrene, and offers lubrication that improves wear characteristics of seals. Graphite also strongly increases thermal and electrical resistivity of Polymers. As noted, bonded coatings also protect metals against corrosion and wear and are particularly suitable for vacuum applications or applications subject to UV or x-ray radiation, the influence of aggressive media and and/or extremely high or low temperatures. Main applications include small parts in precision equipment, electronics, automotive components and textile machines.
Graphite Ropes and Packaging Material
Packing made of expanded graphite yarns reinforced with wires and coated with a graphite-based mix is designed to withstand high pressures and is used in environments that include thermal oils, high temperature fluids, as well as in power stations, refineries, boiler plants, and so on.
Graphite Parts
Graphite parts can be formed for use in a wide variety of manufactured parts benefiting the automotive, aerospace, semiconductor, chemical, metallurgical, nuclear and electronics industries. It is usually the result of a copper and pure graphite composite, creating a material that is both structurally sound and reliable.
Graphite Blocks
Graphite blocks are suitable for all heat exchange and mass transfer processes involving corrosive media. They are used in all branches of the organic and inorganic chemical industry.
| Specialty Product Specs | Finished Grade | Mesh Size | Available In |
| --- | --- | --- | --- |
| Expandable Graphite | 90 - 99.9% C | -50  +100 | |
| Graphite Foils | 85 - 94% C | -50  +100 | |
| Polymers | 50 - 60% C | 5  µm - 15 µm | |
| Graphite Ropes and Packing Materials | 85 - 94% C | -100  +150 | |
| Graphite Parts | 85 - 94% C | -50  +100 | |
| Graphite Blocks | 85 - 94% C | -150  +250 | |
| Pencils | 85 - 94% C | -50  +100 | 25kg, 50kg, and 1000 kg bags and super sacs |