Press Releases
Canada Carbon Takes First Step in Filing of Application with Commission de la Protection du Territoire Agricole du Quebec ("CPTAQ") (English)
March 20th, 2023, Toronto, Ontario, Canada - Canada Carbon Inc. (the "Company" or "Canada Carbon" or "CCB") (TSX-V:CCB),(FF:U7N1) is pleased to announce that the Company has commenced submission of its revised application for review of its Miller Graphite Project by the Commission de la Protection du Territoire Agricole du Quebec ("CPTAQ"). On Friday, March 17th, 2023, CCB submitted a complete project description along with all supporting studies and exhibits to the Municipal Inspector of Grenville Sur La Rouge ("GSLR"). GSLR is statutorily required, within 45 days from the date of submission, to review the application and attest that it conforms with municipal by-laws. Upon attestation, GSLR is then required to forward the completed application to CPTAQ for review an analysis. The Company expects that the CPTAQ review period could be completed within a 6-month timeframe.
The new project description is comprised solely of the development of the Miller Graphite Project and excludes the previously contemplated marble quarry component.
Figure 1: Overview of Miller Graphite Project Site Plan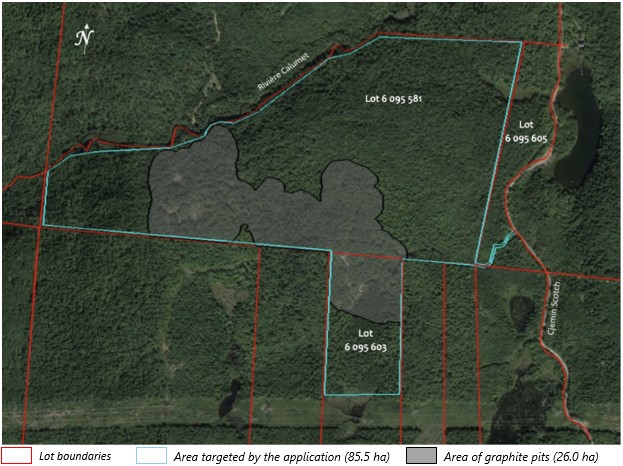 Chief Executive Officer, Ellerton Castor, said: "We have made the decision to submit an application to CPTAQ which is focused solely on the development of the Miller Graphite Deposit. This "mining-only" project should streamline the review process and position the Company to respond to any regulatory concerns about CCB's primary business: the responsible development and commissioning of it two graphite deposits in Quebec. As I outlined in my recent interview with CEO.ca, (https://youtu.be/WBuYkS9quE4), the Company's priority is to expedite its ability to develop both deposits on a timeline that allows it be a significant participant in the nuclear power generation supply chain, while serving other industrial verticals with significant current demand and impressive rates of growth. By focusing the effort on the business of mining and processing graphite, not marble, we will concentrate the Company's financial and intellectual capital in ways that maximize shareholder value, while also demonstrating a level of responsiveness to certain concerns of our neighbors in GSLR."
CANADA CARBON INC.
"Ellerton Castor"
Chief Executive Officer and Director
Contact Information
E-mail inquiries: info@canadacarbon.com
P: (905) 407-1212
FORWARD LOOKING INFORMATION
This press release contains statements that constitute "forward-looking information" ("forward-looking information") within the meaning of the applicable Canadian securities legislation. All statements, other than statements of historical fact, are forward-looking information and are based on expectations, estimates and projections as at the date of this press release. Any statement that discusses predictions, expectations, beliefs, plans, projections, objectives, assumptions, future events or performance (often but not always using phrases such as "expects", or "does not expect", "is expected", "anticipates" or "does not anticipate", "plans", "budget", "scheduled", "forecasts", "estimates", "believes" or "intends" or variations of such words and phrases or stating that certain actions, events or results "may" or "could", "would", "might" or "will" be taken to occur or be achieved) are not statements of historical fact and may be forward-looking information. Forward-looking information in this press release includes statements regarding the CPTAQ review period, the development of the Company's Miller Graphite Deposit, future production from the Company's Miller Graphite Deposit, and other matters related thereto. In disclosing the forward-looking information contained in this press release, the Company has made certain assumptions. Although the Company believes that the expectations reflected in such forward-looking information are reasonable, it can give no assurance that the expectations of any forward-looking information will prove to be correct. Known and unknown risks, uncertainties, and other factors which may cause the actual results and future events to differ materially from those expressed or implied by such forward-looking information. Such factors include but are not limited to: compliance with extensive government regulations; financial abilities; the ability to develop the Miller Graphite Deposit; domestic and foreign laws and regulations adversely affecting the Company's business and results of operations; the impact of COVID-19; and general business, economic, competitive, political, and social uncertainties. Accordingly, readers should not place undue reliance on the forward-looking information contained in this press release. Except as required by law, the Company disclaims any intention and assumes no obligation to update or revise any forward-looking information to reflect actual results, whether as a result of new information, future events, changes in assumptions, changes in factors affecting such forward-looking information or otherwise.
Neither TSX Venture Exchange nor its Regulation Services Provider (as that term is defined in the policies of the TSX Venture Exchange) accepts responsibility for the adequacy or accuracy of this release.