Press Releases
Canada Carbon Announces West Block Flotation Results
May 17th, 2016, Vancouver, BC, Canada – Canada Carbon Inc. (the "Company") (TSX-V:CCB), (FF:U7N1) is pleased to report that it has initiated field exploration activities on the contiguous claims known as the West Block, which are centred approximately 10 kilometres ("km") west of the Miller Phase 1 mine development activities. Recently, two grab samples of approximately 20 kg each were extracted from bedrock sites 3.5 km apart, for the purpose of testing the metallurgical performance of the graphite mineralization found on the Miller West property and to compare the results with those from the graphite deposit found at Phase 1 of the Miller Project.
The two samples were transported to SGS (Lakefield) where they were processed under the supervision and technical guidance of Mr. Oliver Peters to produce a flotation concentrate using the flowsheet and conditions that were developed for the Miller Project in previous laboratory and pilot plant programs. The concentrates thus produced yielded the coarsest particle distributions of any yet reported, with both samples containing greater than 40% jumbo flake (+48 mesh) graphite crystals. A summary of the metallurgical results is provided in the table, below. The concentrate samples will now be sent for thermal upgrading, including pre- and post-treatment GDMS analysis. Those results will be reported, when received.
Table: Summary of Metallurgical Results for Two Samples from the Miller West Property 3.5 km apart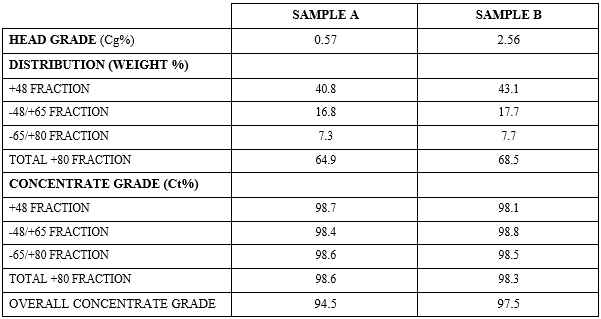 All carbon analyses were performed by SGS Lakefield and are reported as total carbon (C) by Leco or graphitic carbon C(g) employing a roast, followed by a leach and Leco finish of the leach residue. The chemical analysis used to determine the total carbon content employs combustion of a sample followed by infrared detection on a LECO SC-632 instrument. The estimated measurement uncertainty for total carbon values greater than 50% C(t) is 1.4% (relative) with a resolution of 1 significant figure. All reported analytical results have an associated measurement uncertainty based on the expected precision and accuracy relating to the method and sample concentration.
About the West Block Exploration Program
As reported on January 13th 2015, a small trenching program was conducted on electromagnetic anomaly W3, originally identified by an airborne Vertical Time-Domain Electromagnetic survey ''VTEM'' (see news release dated November 14th, 2013), and subsequently confirmed by the man-portable surface PhiSpy Time-Domain Electromagnetic ''TDEM'' geophysical system. The metallurgical test sample (Sample A) was collected from a skarn zone at the contact between marble and paragneiss units, similar to the geologic environment and mineralization occurring at VN8 on the Miller East block claims.
Sample B was collected from a pegmatitic skarn in outcrop found during field exploration on the strike extension of the historic Cameron showing, identified from a review of historic documents (please refer to the Company's February 19, 2015 press release, for more information). A number of small historic pits can still be seen at Cameron, which lies at the southern end of a 3 mile (5 km) long graphite trend described in the historical record. The northern extremity of this 3 mile long alignment corresponds with the historical McArthur showing, and also to VTEM anomaly W2, which have not yet been the subject of prospecting activities.
The geological modeling for the Miller Project (Phase 1) resource estimate has provided the Company with a validated database suitable for high-level interpretation of geophysical data. When combined with field sampling and prospecting activities, as well as Quebec government geological models, the Company's 2013 VTEM program database can now be used to identify significant structural features as well as rock types. Based on this modelling, the Company has potentially identified a marble unit exceeding 12 km in length, and open on strike in both directions, on the West Block. Marble is the host for the high-purity hydrothermal lump-vein graphite resource defined for the Miller Phase 1 mine development. The historical 3 mile graphitic trend corresponds very well with the Company's model of the marble unit, as do the VTEM anomalies already identified. Planning is already underway for an extensive field exploration program to be conducted on the West Block this summer.
The Company has prepared two maps to illustrate the marble unit on the West Block, and the regional graphite potential:
http://www.canadacarbon.com/images/Map-Figure-A-5-9.jpg
http://www.canadacarbon.com/images/Map-Figure-B-5-2.jpg
Canada Carbon Executive Chairman and Chief Executive Officer Mr. R. Bruce Duncan stated, "These preliminary metallurgical results from graphite sampled 10 km to the west of our earlier sampling activities indicate that the hydrothermal lump-vein graphite identified in the vicinity of the historic Miller Pit may be part of a district-scale graphite depositional event. Canada Carbon has developed in-house proprietary graphite prospecting methods which it will now use to efficiently explore its 100 square km claim package, while it continues to advance its Phase 1 graphite mine operation, which is expected to begin production in early 2018. To that effect, the new data generated by the in-fill drilling program of 2016 is now being modelled by SGS Canada Inc."
Qualified Person
The information pertaining to the metallurgical test program completed by SGS that is presented in this news release has been reviewed and approved by Mr. Oliver Peters, M.Sc., P.Eng, MBA, Principal Metallurgist and President of Metpro Management Inc. and a Qualified Person under NI 43-101. Dr. Charbonneau, Ph.D., P. Geo #290 (an Associate of Inlandsis Consultants s.e.n.c.) is an Independent Qualified Person under National Instrument 43-101, and has reviewed and approved the geological information provided in this news release.
CANADA CARBON INC.


CEO and Director
Contact Information
E-mail inquiries: info@canadacarbon.com
P: (604) 685-6375
F: (604) 909-1163
"Neither TSX Venture Exchange nor its Regulation Services Provider (as that term is defined in the policies of the TSX Venture Exchange) accepts responsibility for the adequacy or accuracy of this release."
FORWARD LOOKING STATEMENTS: This news release contains forward-looking statements, which relate to future events or future performance and reflect management's current expectations and assumptions. Such forward-looking statements reflect management's current beliefs and are based on assumptions made by and information currently available to the Company. Investors are cautioned that these forward looking statements are neither promises nor guarantees, and are subject to risks and uncertainties that may cause future results to differ materially from those expected. These forward-looking statements are made as of the date hereof and, except as required under applicable securities legislation, the Company does not assume any obligation to update or revise them to reflect new events or circumstances. All of the forward-looking statements made in this press release are qualified by these cautionary statements and by those made in our filings with SEDAR in Canada (available at www.sedar.com).