Press Releases
Canada Carbon Begins Bulk Processing at SGS Canada Inc.
September 11th, 2014, Vancouver, BC, Canada – Canada Carbon Inc. (the "Company") (TSX-V: CCB) is pleased to announce that it has begun pilot-scale processing of graphite material from its 100% owned Miller graphite property. The primary objectives of the pilot plant operation that commenced at SGS Canada (Lakefield) during the week of September 7th, 2014, are to generate larger quantities of graphite flotation concentrate for downstream evaluation, and to provide process data to facilitate future engineering studies.
An initial 25 tonne composite was shipped to SGS Lakefield in mid-August 2014 for commissioning purposes. An additional 102 tonnes of material from the Miller graphite mineralization was received by SGS on September 9, 2014, which is depicted in Figure 1.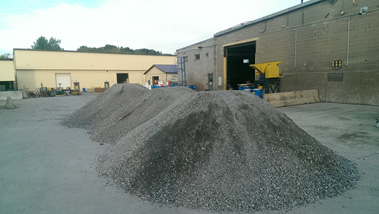 Figure 1: 102 tonne Bulk Sample
Wet commissioning of the pilot plant using the Miller flotation process developed by SGS commenced on September 7, 2014 and is expected to be completed within 5-7 operating days. Initial commissioning focused on the primary grinding and flotation circuit, which is shown in Figure 2. This circuit aims to recover the majority of the graphite into a higher grade intermediate concentrate, which is then further upgraded in a cleaning circuit (Figure 3).
Once mechanical and metallurgical commissioning is completed, the plant will be operated for up to 200 hours to generate several tonnes of graphite concentrate, and will also provide plant data to support the generation of process design criteria for a full-scale graphite mill.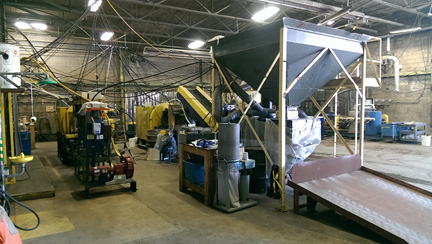 Figure 2: Grinding and Primary Flotation Circuit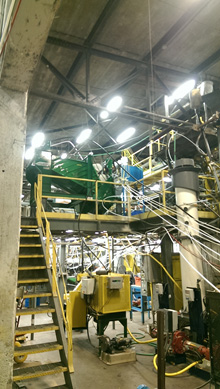 Figure 3: Cleaning Circuit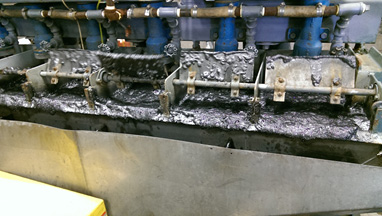 Figure 4: Flotation of Miller graphite
Qualified Person
Mr. Oliver Peters, M.Sc., P.Eng, MBA, (Consulting Metallurgist for SGS and Principal Metallurgist of Metpro Management Inc.) is an Independent Qualified Person under National Instrument 43-101, and has reviewed and approved the technical information provided in this news release.
On Behalf of the Board of Directors
CANADA CARBON INC.
"R. Bruce Duncan"
CEO and Director
Contact Information
E-mail inquiries: info@canadacarbon.com
P: (604) 638-0971
"Neither TSX Venture Exchange nor its Regulation Services Provider (as that term is defined in the policies of the TSX Venture Exchange) accepts responsibility for the adequacy or accuracy of this release."
FORWARD LOOKING STATEMENTS: This news release contains forward-looking statements, which relate to future events or future performance and reflect management's current expectations and assumptions. Such forward-looking statements reflect management's current beliefs and are based on assumptions made by and information currently available to the Company. Investors are cautioned that these forward looking statements are neither promises nor guarantees, and are subject to risks and uncertainties that may cause future results to differ materially from those expected. These forward-looking statements are made as of the date hereof and, except as required under applicable securities legislation, the Company does not assume any obligation to update or revise them to reflect new events or circumstances. All of the forward-looking statements made in this press release are qualified by these cautionary statements and by those made in our filings with SEDAR in Canada (available at www.sedar.com).