Press Releases
Canada Carbon Completes Geophysical Work and Begins Trenching Anomalies on E1 Target
June 26th, 2014, Vancouver, BC, Canada – Canada Carbon Inc. (the "Company") (TSX-V: CCB) announces that following the completion of ground TDEM (PhiSpy) and IP surveys on its priority target E1 (See news release dated May 20th, 2014), it has identified areas with conductive anomalies associated with IP chargeability. While graphite was discovered in outcrops as the ground geophysical surveys were being conducted, a trenching campaign which began on June 18th, 2014 is being utilized to investigate the subcropping anomalies. Veins of graphite were discovered in the newly exposed bedrock. A drill phase will follow, contingent upon the results of the trenching campaign.
IP Survey: http://www.canadacarbon.com/reports-maps-data
The geophysical surveys were completed over priority target E1 which was selected from the airborne VTEM survey because of its extensive size (180 m by 100 m), its close location to the Miller Mine (750 m north of the pit) and the presence of structural features interpreted from airborne magnetic maps.
The PhiSpy survey was completed on a 320 by 320 m grid covering the E1 target, and resulted in the identification of seven anomalies, ranging in size from a few meters up to 25 m. The near-surface anomalies are primarily located on the southwest part of the grid, whereas the structural features and airborne anomalies are located toward the northeast part of the grid. Prospecting and trenching will be used to investigate those anomalies.
The IP survey consisted of four 480 m lines oriented in a SW-NE direction that covered an area of 500 by 150 m. The spacing between the grid lines was 50 m and the distance between pole and dipole was 12.5 meters to obtain optimal resolution and depth of penetration. The survey results show interpreted models of conductivity and chargeability. A total of 8 IP anomalies located in close proximity to the interpreted structural features were identified, of which 4 are of particular interest (E1-4, E1-6, E1-7 and E1-8). Anomaly E1-4 is centered over the airborne VTEM anomaly, suggesting that its source could be common to both anomalies. Both the VTEM and the IP anomaly are located within a marble unit which is of interest since both the historic Miller Mine and the VN3 showing are hosted in marble. This anomaly connects at depth, with other anomalies present, and extends for the width of the entire grid (150 m) in a NW-SE direction. Initial trenching has revealed small graphite veins in the exposed bedrock surface. Anomaly E1-6 seems to come close to surface on line L150. This anomaly lies on the contact between marble and paragneiss units. The contact will be the focus of trenching since an identical contact hosts the VN1 and VN2 showings. This anomaly follows the structural feature over the width of the whole grid (150 m). Both anomaly E1-7 and E1-8 are located in paragneiss outcrops, where graphite exposures were observed. Anomaly E1-7 is strong on lines L0 and L100, and seems to be subcropping on line 100, but appears to lie at greater depth on line L0. Anomaly E1-8 is also of interest, but is only poorly defined since it is at the edge of the surveyed grid and its size is currently undefined. Maps of the chargeability models and interpretation can be found on Canada Carbon's website (http://www.canadacarbon.com).
A trenching program commenced on June 18th, 2014 to work on the defined PhiSpy and IP anomalies. Local trenching will allow for observation of bedrock mineralization and geological context over the anomalies. Cleaning of the trenches will utilize water pressure pumps and will be followed by channel sampling to measure the quantity of graphite in any interesting mineralization found. Upon completion of trenching and evaluation of results, a drilling program will commence to test geophysical anomalies at depths ranging from 10 to 30 metres below the surface, to further investigate the conductive and chargeability responses.
Executive Chairman and CEO Mr. R. Bruce Duncan stated, "The Company intends to proceed with similar systematic ground geophysical surveys over its previously defined priority targets (See news release dated May 8th, 2014). Additional targets on the west and east claim blocks are currently being evaluated by prospecting along with beep-mat surveys. This systematic exploration program enables the Company to define very detailed targets in a cost effective manner while further exploring its 100 km2 land package."
Qualified Person
Dr. Charbonneau, Ph.D., P. Geo #290 (an Associate of Inlandsis Consultants s.e.n.c.) is an Independent Qualified Person under National Instrument 43-101, and has reviewed and approved the technical information provided in this news release.
About Canada Carbon Inc.
Canada Carbon Inc. is engaged in the acquisition, exploration and evaluation of mineral properties. The Company holds a 100 % interest in four graphite properties located in Ontario and Québec, including two past-producing graphite mines, the Miller and the Asbury.
CANADA CARBON INC.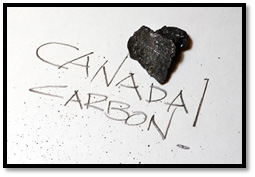 "R. Bruce Duncan"
CEO and Director
Contact Information
Corporate Video: http://www.canadacarbon.com/miller-video
E-mail inquiries: info@canadacarbon.com
P: (604) 638-0971
F: (604) 638-0973
"Neither TSX Venture Exchange nor its Regulation Services Provider (as that term is defined in the policies of the TSX Venture Exchange) accepts responsibility for the adequacy or accuracy of this release."
FORWARD LOOKING STATEMENTS: This news release contains forward-looking statements, which relate to future events or future performance and reflect management's current expectations and assumptions. Such forward-looking statements reflect management's current beliefs and are based on assumptions made by and information currently available to the Company. Investors are cautioned that these forward looking statements are neither promises nor guarantees, and are subject to risks and uncertainties that may cause future results to differ materially from those expected. These forward-looking statements are made as of the date hereof and, except as required under applicable securities legislation, the Company does not assume any obligation to update or revise them to reflect new events or circumstances. All of the forward-looking statements made in this press release are qualified by these cautionary statements and by those made in our filings with SEDAR in Canada (available at www.sedar.com).