Press Releases
Canada Carbon Achieves up to 100% C(t) Graphite Purity by Flotation Concentration Alone
June 4th, 2014, Vancouver, BC, Canada – Canada Carbon Inc. (the "Company") (TSX-V: CCB) is pleased to announce the following update on the flotation concentration tests for the Company's past-producing Miller Graphite Property hydrothermal vein graphite mineralization, being conducted by SGS Canada Inc. ("SGS"), at their facilities in Lakefield, Ontario.
SGS has completed a metallurgical test program on a 50-kilogram composite of the Miller hydrothermal lump vein graphite, with the objective of developing a flotation concentration flow sheet, which optimizes the preservation of the graphite's crystalline structure, as well as its particle sizes, in order to maximize the potential economic value of this high-purity graphite.
SGS has now provided the Company with exceptional flotation concentration optimization results, including: a) three different large-crystal fractions assaying at 100.0% C(t), representing more than 30% (by weight) of the total graphite concentrate; b) an improvement in the combined concentrate grade to 98.4% C(t); and, c) more than 70% (by weight) of the concentrate fractions grading >98% C(t). Even the smallest size fraction of less than 400 mesh graded in excess of 95% C(t). These results were obtained through conventional flotation only without chemical treatment, i.e. without the use of strong bases ((NaOH) caustic roast technique) or acids ((H2SO4/HF) acid leach technique).
Table 1: Selected Assay Results - Sixth Flotation Trial
Particle Size (Mesh)

Particle Size (microns)

Yield, Percentage of Concentrate Mass

Assayed Grade
Percent C(t)

+32

>500

5.5

100.0

+48

>297

18.3

100.0

+65

>210

6.3

100.0
*All reported analytical results have an associated measurement uncertainty based on the expected precision and accuracy relating to the method and sample concentration. Values at 100% should not be treated as pure products without additional impurity testing. The chemical analysis used to determine the total carbon content employs combustion of a sample followed by infrared detection on a LECO SC-632 instrument. The estimated measurement uncertainty for total carbon values greater than 50% C(t) is 1.4% (relative) with a resolution of 1 significant figure. For example, a reported assay value of 99.0% C(t) could therefore range between 97.6% and 100% C(t).
The Company will immediately submit a sample of the 100.0% C(t) graphite concentrate to Evans Analytical, Liverpool, New York, for impurity analysis by Glow-Discharge Mass-Spectrometry (GD-MS). Previous GD-MS results indicated that the Miller hydrothermal graphite exceeded nuclear purity standards and upgraded via rapid thermal treatment to 99.9978% C(g). The GD-MS analysis on the current sample will provide a measurement of the concentrations of impurities that can be achieved using conventional mineral processing technologies consisting of grinding, size classification, and flotation only.
These exceptional results indicate that SGS has developed a clear understanding of the process optimization criteria, which will allow Canada Carbon to begin scaling up the design of the pilot-plant scale processing equipment for the previously reported 480-tonne bulk sample of the Miller hydrothermal graphite.
Canada Carbon's Executive Chairman and CEO, Mr. R. Bruce Duncan, commented, "We are delighted to report these truly remarkable and unprecedented results, provided to us by the expert team at SGS Canada. They have shown that conventional and inexpensive mineral processing techniques are sufficient to produce a very high-purity, large-crystal graphite concentrate from our Miller hydrothermal lump vein graphite. The +65, +48, and +32 mesh sizes (analogous to large flake, jumbo flake, and superjumbo flake, respectively), all grading at 100% C(t), will be submitted for detailed laboratory characterization and analysis. Because this material has not been exposed to expensive and aggressive thermal and chemical purification processes, it will provide us with the best opportunity to assess our Miller graphite's inherent properties."
About SGS Canada Inc. (Lakefield, Ontario)
SGS Canada Inc. ("SGS") is recognized as a world leader in the development of concentrator flowsheet design and pilot plant testing programs. SGS Metallurgical Services division was founded over half a century ago. Its metallurgists, hydro-metallurgists and chemical engineers are experienced in all the major physical and chemical separation processes utilized in the recovery of metals and minerals contained in resource properties around the world.
Qualified Person
Mr. Oliver Peters, M.Sc., P.Eng, MBA, (Consulting Metallurgist for SGS and Principal Metallurgist of Metpro Management Inc.) is an Independent Qualified Person under National Instrument 43-101, and has reviewed and approved the technical information provided in this news release.
About Canada Carbon Inc.
Canada Carbon Inc. is engaged in the acquisition, exploration and evaluation of mineral properties. The Company holds a 100 % interest in four graphite properties located in Ontario and Québec, including two past-producing graphite mines, the Miller and the Asbury.
CANADA CARBON INC.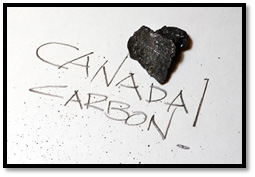 "R. Bruce Duncan"
CEO and Director
Contact Information
Corporate Video: http://www.canadacarbon.com/miller-video
E-mail inquiries: info@canadacarbon.com
P: (604) 638-0971
F: (604) 638-0973
"Neither TSX Venture Exchange nor its Regulation Services Provider (as that term is defined in the policies of the TSX Venture Exchange) accepts responsibility for the adequacy or accuracy of this release."
FORWARD LOOKING STATEMENTS: This news release contains forward-looking statements, which relate to future events or future performance and reflect management's current expectations and assumptions. Such forward-looking statements reflect management's current beliefs and are based on assumptions made by and information currently available to the Company. Investors are cautioned that these forward looking statements are neither promises nor guarantees, and are subject to risks and uncertainties that may cause future results to differ materially from those expected. These forward-looking statements are made as of the date hereof and, except as required under applicable securities legislation, the Company does not assume any obligation to update or revise them to reflect new events or circumstances. All of the forward-looking statements made in this press release are qualified by these cautionary statements and by those made in our filings with SEDAR in Canada (available at www.sedar.com).