Press Releases
Canada Carbon to Proceed with Ground EM Survey on Priority Target E1 on the Miller Mine Property
May 20th, 2014, Vancouver, BC, Canada – Canada Carbon Inc. (the "Company") (TSX-V: CCB) announces that it has mandated Dubé & Desaulniers Geoscience Inc. to proceed with a 320 metre ("m") by 320 m geophysics survey over priority target E1, first identified by aerial geophysics (VTEM) conducted last year. The area to be surveyed is centered over a 180 m by 100 m strongly conductive VTEM anomaly that lies at the heart of the 400 m (radius) E1 VTEM target previously reported. Trenching will then be done over each anomaly generated by the ground EM survey. The ground survey can be readily expanded, based on the results of surface prospecting in the E1 target zone.
The ground EM survey will consist of a PhiSpy grid with line spacing of 20 m. The PhiSpy system is a light-weight, portable TDEM geophysical exploration tool which brings together GPS locating capability, stored mapping and geoscientific information (e.g. targets obtained from airborne geophysical surveys), and real-time display of TDEM profiles of the area being surveyed. The PhiSpy device can detect buried conductors to approximately 10m depth. It was previously deployed on the property in an area covering the historic mine pit, as well as the VN3 showing, which resulted in the discovery of 14 anomalies of varying size. Subsequent exploration confirmed the association of PhiSpy anomalies with graphite veins in a few cases; however most of the anomalies are still to be inspected by trenching to evaluate their source.
Target E1 is easily accessible by bush road, and is located 750 m north of the Miller mine pit. E1 corresponds with a large conductive anomaly that is located on the edge of a 1.3 km long fold structure, at the hinge zone of the fold. The magnetic maps also indicate a contact between two geological units in the zone to be surveyed. The area's geological maps show a succession of paragneiss, marble and skarn rocks, and the target would reside in the continuity of the marble and skarn units. This anomaly was previously selected for modelling by Geotech of Aurora which interpreted it as a horizontal plate that is 130 m long by 120 m wide which dips at -20 degrees. The dip direction is parallel to the hinge of the interpreted folded structure, with the modeled plate parallel to the fold, which fits well with Canada Carbon's proposed model. The top of the modelled plate is located at about 140 m from surface. Previously, conductor E3 was also modeled by Geotech as being at significant depth, but was later found to be at shallow depth as determined by the PhiSpy survey covering the VN3 area.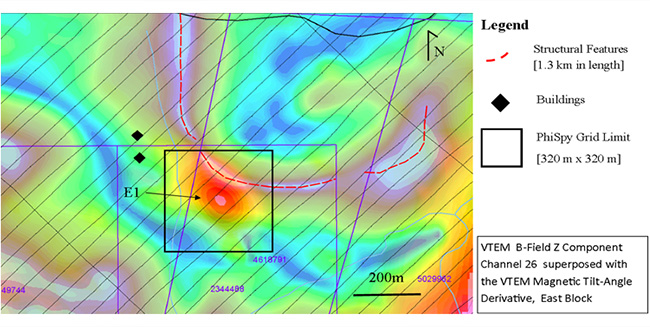 Trenching over the anomalies generated by the PhiSpy survey will be done to directly observe any mineralization or alteration associated with the anomalies. Trenching will also allow the company to obtain immediate results, as well as important technical information about the anomalies. The trenching excavator is currently on site and a water source is nearby to expedite the cleaning process by use of high pressure water pumps. Old forestry roads cross the anomaly, which will allow the Company to reduce the amount of tree cutting to a minimum.
Executive Chairman and CEO Mr. R. Bruce Duncan stated, "The beginning of the work on one of 11 defined priority targets is the start of a great summer of exploration on both claim blocks of the Miller Mine property. The targets show high potential for graphite mineralization, and each of them will be fully assessed during the summer work program. The company is confident it will discover many graphite showings, and that it will also generate a considerable amount of technical data to further define future targets. With this acquired knowledge about the relationship between geophysical signatures and the geological structures associated with hydrothermal graphite deposits, we expect continuous improvement in the efficiency and success of our prospecting programs.''
Dr. Charbonneau, Ph.D., P. Geo #290 (an Associate of Inlandsis Consultants s.e.n.c.) is an Independent Qualified Person under National Instrument 43-101, and has reviewed and approved the technical information provided in this news release.
CANADA CARBON INC.

"R. Bruce Duncan"
CEO and Director
Contact Information
E-mail inquiries: info@canadacarbon.com
P: (604) 638-0971
F: (604) 638-0973
"Neither TSX Venture Exchange nor its Regulation Services Provider (as that term is defined in the policies of the TSX Venture Exchange) accepts responsibility for the adequacy or accuracy of this release."
FORWARD LOOKING STATEMENTS: This news release contains forward-looking statements, which relate to future events or future performance and reflect management's current expectations and assumptions. Such forward-looking statements reflect management's current beliefs and are based on assumptions made by and information currently available to the Company. Investors are cautioned that these forward looking statements are neither promises nor guarantees, and are subject to risks and uncertainties that may cause future results to differ materially from those expected. These forward-looking statements are made as of the date hereof and, except as required under applicable securities legislation, the Company does not assume any obligation to update or revise them to reflect new events or circumstances. All of the forward-looking statements made in this press release are qualified by these cautionary statements and by those made in our filings with SEDAR in Canada (available at www.sedar.com).