Press Releases
Canada Carbon Acquires Calumet Claims from Caribou King
December 13th, 2013, Vancouver, BC, Canada – Canada Carbon Inc. (the "Company") (TSX-V: CCB announces that it has entered into a definitive agreement (the "Agreement") with Caribou King Resources Ltd. ("Caribou King") to acquire a 100% interest in eight claim units (the "Calumet Claims") contiguous to Canada Carbon's historic Miller Graphite Mine. The Company and Caribou King act at arm's length. The Calumet Claims are located 80 kilometres ("km") west of Montreal near Grenville, Quebec. With this new land acquisition, the Miller Graphite property will now cover 94.2 km 2.
Terms of the Agreement
Pursuant to the Agreement, the Company has agreed to issue Caribou King a total of 200,000 common shares upon the approval of the transaction by the TSX Venture Exchange. The Company has also agreed to pay Caribou King $15,000.
The Calumet Claims are subject to an existing 2% Net of Processed Material Returns Royalty which can be reduced at any time to 1% by paying $1,000,000 to the royalty holder.
On Behalf of the Board of Directors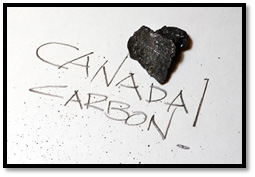 CANADA CARBON INC.

"R. Bruce Duncan"
CEO and Director
Contact Information
E-mail inquiries: info@canadacarbon.com
P: (604) 638-0971
"Neither TSX Venture Exchange nor its Regulation Services Provider (as that term is defined in the policies of the TSX Venture Exchange) accepts responsibility for the adequacy or accuracy of this release."
FORWARD LOOKING STATEMENTS: This news release contains forward-looking statements, which relate to future events or future performance and reflect management's current expectations and assumptions. Such forward-looking statements reflect management's current beliefs and are based on assumptions made by and information currently available to the Company. Investors are cautioned that these forward looking statements are neither promises nor guarantees, and are subject to risks and uncertainties that may cause future results to differ materially from those expected. These forward-looking statements are made as of the date hereof and, except as required under applicable securities legislation, the Company does not assume any obligation to update or revise them to reflect new events or circumstances. All of the forward-looking statements made in this press release are qualified by these cautionary statements and by those made in our filings with SEDAR in Canada (available at www.sedar.com).