Press Releases
VTEM Survey Modeling Defines Three Priority Targets that will be Subject to a Drill Program
November 14th 2013, Vancouver, BC, Canada – Canada Carbon Inc. (the "Company") (TSX-V:CCB) is pleased to announce that it has received the final modeling results from the Geotech VTEM airborne survey performed over the East claim block of the Miller graphite property (refer to news release, October 8th, 2013). The inversion modeling allows the three-dimensional definition of drill targets, described by plate parameters that define volumes of conductive rock which could be the sources of the anomalies observed in the VTEM survey. These parameters will be used to plan a diamond drill campaign that will not only test the three identified targets, but which will also test the trench area along its extensions and at depth, where graphite veins and pods were found through trenching. Anomaly picking and modeling is currently being conducted by Geotech on the West claim block, which was surveyed by VTEM airborne survey simultaneously with the East block.
R. Bruce Duncan, CEO & Director of Canada Carbon Inc. stated, "We are pleased to receive high-priority drill targets from our VTEM geophysics, which will allow us to seek new graphite mineralization on the Miller property. These new drill targets are all located close to known graphite mineralization at surface, and the technical team is optimistic that graphitic bodies are the source of the EM anomalies identified by the VTEM survey. More drilling adjacent to the trench zone will also help our team in modeling the graphite vein and pod distribution, while providing information about the grade, and quantity of mineralization present. Graphite mineralization assayed to date has yielded high in situ concentrations of graphite, which can be upgraded to very high purity."
Geotech Ltd performed an EMIT Maxwell Plate Modeling on the East bloc over three electro-magnetic anomalies that were selected for their size, shape and amplitude. The plate model allows the prediction of specific parameters for a rock body, such that it explains the observed anomaly's characteristics. Parameters of the modeled plate include location, depth to surface of the body, dip, rotation, length, depth extent and conductivity-thickness. These parameters allow the selection of drill collar parameters to optimally test the inferred source of the electro-magnetic anomaly. All of the proposed drill target models fit the measured data well.
Target E1 is located 800 metres ("m") north of the Miller mine pit and has been modeled as a 130 m by 120 m plate, dipping towards the south-west at 20 degrees. The top of the plate is located at about 140 m from surface. A confident estimation of thickness cannot be done on horizontal plates. Magnetic maps show that target E1 is located between two magnetic anomalies that could correspond to the contact of two geological units with a similar geological context to that of the known Miller mineralization.
Target E2 is located adjacent to the current trench work area. This target is near horizontal, striking northwest for about 250 m, and has a width of about 45m. Similar to target E1, a proper evaluation of thickness cannot be done, since the modeled target is also a horizontal plate. The top surface of the conductor is approximately 90m from surface.
Target E3 is located south-east of the Miller mine pit and shows along-strike continuity with the mine pit electro-magnetic anomaly. This target is very conductive and is steeply dipping. The top of the target is 40 m from surface. The target body has estimated dimensions of 110m by 40m width, along its depth extension, and an estimated thickness of 7 m. Prospecting and beep-mat surveying allowed for the discovery of many closely spaced graphite veins and historical exploration pits in that area.
All of the proposed targets fit well with the deposit model developed by the Company. The model proposes hydrothermal and pneumatolytic processes that result in graphite and wollastonite mineralization associated with intrusive bodies cutting into marble units. Target E1 and E2 are modeled as horizontal conductors that could correspond to altered rock units located over an intrusive body while the sub-vertical target E3 would correlate well with graphite veins arising from a deeper source.
A 900 m drill campaign is planned to start in mid-November to test these three targets. In addition, 500 m of drilling is also planned to sample beneath graphite veins and pods observed in the trench area. Previous drilling (reported in news release September 19th, 2013) was conducted to test the continuity of graphite vein mineralization, but was limited to 39 m from surface. The proposed drill program will focus on extending the mineralization at depth, and along strike.
Rémi Charbonneau, Ph.D., P. Geo #290 (an Associate of Inlandsis Consultants s.e.n.c.) is an Independent Qualified Person under National Instrument 43-101, and has read the Geotech Modeling Report and confirms the technical information provided in this news release.
On Behalf of the Board of Directors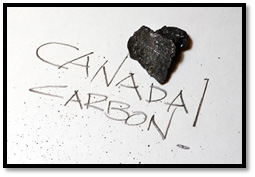 CANADA CARBON INC.

"R. Bruce Duncan"
Interim CEO and Director
Contact Information
E-mail: info@canadacarbon.com
P: (604) 638-0971
F: (604) 638-0973
"Neither TSX Venture Exchange nor its Regulation Services Provider (as that term is defined in the policies of the TSX Venture Exchange) accepts responsibility for the adequacy or accuracy of this release."
FORWARD LOOKING STATEMENTS: This news release contains forward-looking statements, which relate to future events or future performance and reflect management's current expectations and assumptions. Such forward-looking statements reflect management's current beliefs and are based on assumptions made by and information currently available to the Company. Investors are cautioned that these forward looking statements are neither promises nor guarantees, and are subject to risks and uncertainties that may cause future results to differ materially from those expected. These forward-looking statements are made as of the date hereof and, except as required under applicable securities legislation, the Company does not assume any obligation to update or revise them to reflect new events or circumstances. All of the forward-looking statements made in this press release are qualified by these cautionary statements and by those made in our filings with SEDAR in Canada (available at www.sedar.com).