Press Releases
Canada Carbon Applying for Bulk Sampling Permit for Miller Graphite Mine
October 28th, 2013, Vancouver, BC, Canada – Canada Carbon Inc. (the "Company") (TSX-V: CCB) is pleased to announce that it is in the process of applying for a bulk sampling permit at its Miller Graphite Mine. The bulk sampling permit will enable the Company to extract and ship large samples of graphite-bearing material. The Company has multiple stockpiles of graphite bearing material some of which were recently discovered near the historic Miller Mine pit as well as graphite material collected as it is displaced from trenching during current exploration activities. The stockpiles were discovered during beep-mat surveying and prospecting. The total stock piled material contains 640 tonnes of graphite vein mineralization in marble, paragneiss and wollastonite, as well as five tonnes of high-grade lump graphite. Wollastonite is present in the stockpiled material and in the area currently being trenched, and occurs with graphite as acicular crystals up to ten centimetres in size. Wollastonite has a wide variety of uses in the automotive industry, and the Company is investigating the recovery of wollastonite as a by-product of graphite mining at the Miller mine. Samples from the stockpiles have been sent to Actlabs (Ancaster, ON) for total graphite analysis, and the results will be used to prioritize processing of the stockpiled material. The Company advises that certain parts of the drill program assays are still pending, with the digestion phase done for the graphite vein mineralisation and samples being processed in the analytical instruments.
R. Bruce Duncan, CEO & Director of Canada Carbon states, "Permitting for bulk sampling is a logical next step as we advance the Miller Mine project, and the discovery of historic stockpiles on surface is extremely fortuitous. It confirms the historic accounts of high-grade lump graphite on the property, and provides a significant amount of material for comparison to our recent discoveries. We now have access to this material, at surface, ready to be moved, that required minimum cost to discover. The Company anticipates the shipping of bulk samples for further testing once the bulk sample permit is received."
Results from a recent VTEM survey flown by Geotech also identified an important anomaly at depth near the Miller Mine pit area (see news release October 8, 2013). A second anomaly with similar strike as the pit anomaly and located to the southeast was subjected to follow-up prospecting and beep mat surveying. Numerous closely-spaced graphite veins ranging from a few centimetres to ten centimetres in width were discovered under 40 centimetres of overburden. Some veins are located at the contact of marble and paragneiss, in an identical geological context to that of the Miller mine site and trench area. Several exploration pits were also located, with graphite-bearing blocks adjacent to them and apparently from the pits. Collectively, the observations support the belief that graphite mineralization explains the strong VTEM anomaly at depth. A drill program to test this anomaly and the mine pit anomaly is planned after additional modeling of the VTEM is completed.
The Company is also in the process of requesting environmental authorization to pursue its trench work in the vein and pods discovery area (see news release, September 19, 2013) due to the expected size of the future trench. The objective is to further expose the mineralized contact between the paragneiss and the marble, which hosts multiple graphite veins and graphite pods. During the environmental authorization process, drilling will be carried out to further test the mineralization at depth. The Company is currently preparing detailed drill logs from the last drill program to better plan the coming program. Geophysical modeling underway by Geotech will also greatly help to determine targets for the coming drill program.
Rémi Charbonneau, Ph.D., P. Geo #290 (an Associate of Inlandsis Consultants s.e.n.c.) is an Independent Qualified Person under National Instrument 43-101, and has reviewed and approved the technical information provided in this news release.
On Behalf of the Board of Directors
CANADA CARBON INC.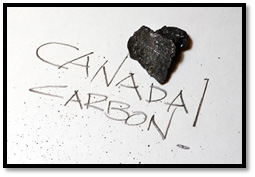 "R. Bruce Duncan"
CEO and Director
Contact Information
E-mail inquiries: info@canadacarbon.com
P: (604) 638-0971
F: (604) 638-0973
"Neither TSX Venture Exchange nor its Regulation Services Provider (as that term is defined in the policies of the TSX Venture Exchange) accepts responsibility for the adequacy or accuracy of this release."
FORWARD LOOKING STATEMENTS: This news release contains forward-looking statements, which relate to future events or future performance and reflect management's current expectations and assumptions. Such forward-looking statements reflect management's current beliefs and are based on assumptions made by and information currently available to the Company. Investors are cautioned that these forward looking statements are neither promises nor guarantees, and are subject to risks and uncertainties that may cause future results to differ materially from those expected. These forward-looking statements are made as of the date hereof and, except as required under applicable securities legislation, the Company does not assume any obligation to update or revise them to reflect new events or circumstances. All of the forward-looking statements made in this press release are qualified by these cautionary statements and by those made in our filings with SEDAR in Canada (available at www.sedar.com).