Press Releases
VTEM Survey Identifies Five Main Conductive Anomalies and 86 Clusters of EM Anomalies on Miller Lump/Vein Graphite Property
October 8th, 2013, Vancouver, BC, Canada – Canada Carbon Inc. (the "Company") (TSX-V: CCB) is pleased to announce that it has received the final results of the Geotech VTEM airborne survey performed over the Miller graphite property. Processing of the VTEM data allows for the derivation of multiple products used collectively in identifying priority targets for follow-up work. Five high priority targets were identified, two of which are known to correspond with marble rocks that host the graphite elsewhere on the property. Additionally, the calculated time constant processing (or 'Tau' constant) has identified 86 clusters of smaller-sized EM anomalies on the property which show a strong relationship in signal between each other. Assessment of these anomalies will continue, with testing of the targets through trenching and/or drilling under consideration.
Miller Map: http://www.canadacarbon.com/miller-asbury-images
R. Bruce Duncan, CEO & Director of Canada Carbon Inc. stated, "Canada Carbon is very pleased with the results of the Geotech survey, which highlights an impressive number of high-priority exploration targets that are widely distributed over the Miller property. Our excellent road access to the property will allow our team to quickly prioritize these anomalies and focus on those with the greatest potential. These geophysical results are an important technical asset that will continue to lead to new graphite discoveries in the very near future at the Miller graphite property."
The survey entirely covered two claim blocks (named East and West) that constitute the Miller Property. Principal sensors for the survey included a Time Domain EM system and two magnetometers to measure horizontal gradient. The total surveyed area is 25 kilometres (km)2 and the total line coverage is 336 line-km. Signals due to known cultural sources such as power lines and houses were removed from the EM data. On the East block, survey lines were flown in a northeast to southwest direction, with a line spacing of 100 meters (m). A spacing of 50m was implemented in the central part of the block where historic mining took place, and where graphite veins and pods are currently being tested through trenching and drilling (see news release September 18, 2013). Two major anomalies (E1 and E2) are present on the East block, occurring respectively at 100m depth and 80-100m depths. Anomaly E1 is located 800m north of the mine pit, with an approximate diameter of 400m. Magnetic maps show that E1 is located between two magnetic anomalies that could correspond to the contact of two geological units with a similar geological context to the known Miller mineralization. Anomaly E2 is located next to the current trench work area. Anomaly E1 is positioned where Canada Carbon recently obtained an access agreement for exploration work, with E2 partly included along its north extension (see news release September 5, 2013).
The West block was flown in a northwest to southeast direction with line spacing of 100 m. The West block hosts three major anomalies (W1 to W3). Anomaly W1 is located in marble and is sub-vertical at 100m depth, and W2 is also located on a contact zone of a marble with intrusive rocks. Both W2 and W3 are close to the surface according to the survey results.
The five main conductive targets were selected for their high amplitude conductivity, along with their significant extent (hundreds of metres) and detailed morphology. Additional conductive anomalies of lesser amplitude form dense clusters on both claim blocks. These clusters were selected on the basis of their spatial distribution and by the nature of the EM signal in between them as depicted on time constant image generated by Geotech.
On the East block, 40 EM clusters consisting of one or more EM anomalies are present, with the clusters having a mean diameter of approximately 100 meters. Among these anomalies, a 500m along-strike anomaly with a depth of at least 100 meters is present in the vicinity of the Miller mine pit and will be subject of further resolution by Geotech. Southeast of the Miller mine pit, an anomaly is also present that shows along-strike continuity with the mine pit anomaly. Many small historic trenches are found along these anomalies at surface, and Company geologists believe that it is very likely that graphite is the cause of these new anomalies.
The West block hosts 46 clusters with a mean size of approximately 200m, and is scheduled to be tested through prospecting and beep-mat surveys to prioritize their potential. Geotech will also continue to assess the data to resolve the centers of the five main conductors. This will also include detailed resistivity depth imaging and plate Maxwell 3D models. This information will be used to establish a drill program for the most promising anomalies.
Previous EM methods used on the property resulted in the discovery of many graphite veins (see press release dated June 27th 2013). The many historic graphite pits and trenches on the property indicate that graphite is distributed widely and the Company expects that many of the clusters will be correlated with graphite mineralization. Each of the anomaly clusters has the requisite size and EM response to represent potential new individual graphite discoveries. On-ground prospecting and beep mat surveys are planned over the main anomalies as well as over several of the clusters. The Company intends to complete these activities during the fall, with the results used to focus upon the best exploration targets.
Rémi Charbonneau, Ph.D., P. Geo #290 (an Associate of Inlandsis Consultants s.e.n.c.) is an Independent Qualified Person under National Instrument 43-101, and has read the Geotech Report and confirm the technical information provided in this news release.
On Behalf of the Board of Directors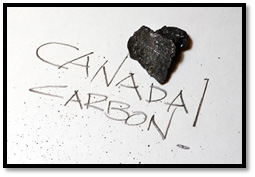 CANADA CARBON INC.
"R. Bruce Duncan"
CEO and Director
Contact Information
E-mail: info@canadacarbon.com
P: (604) 638-0971
F: (604) 638-0973
"Neither TSX Venture Exchange nor its Regulation Services Provider (as that term is defined in the policies of the TSX Venture Exchange) accepts responsibility for the adequacy or accuracy of this release."
FORWARD LOOKING STATEMENTS: This news release contains forward-looking statements, which relate to future events or future performance and reflect management's current expectations and assumptions. Such forward-looking statements reflect management's current beliefs and are based on assumptions made by and information currently available to the Company. Investors are cautioned that these forward looking statements are neither promises nor guarantees, and are subject to risks and uncertainties that may cause future results to differ materially from those expected. These forward-looking statements are made as of the date hereof and, except as required under applicable securities legislation, the Company does not assume any obligation to update or revise them to reflect new events or circumstances. All of the forward-looking statements made in this press release are qualified by these cautionary statements and by those made in our filings with SEDAR in Canada (available at www.sedar.com).