Press Releases
VTEM Survey Identifies 300 Metre Long Electromagnetic Anomaly on Miller Hydrothermal Lump/Vein Graphite Property
September 12th, 2013, Vancouver, BC, Canada – Canada Carbon Inc. (the "Company") (TSX-V: CCB) is pleased to announce that preliminary VTEM airborne survey results from Geotech Ltd. (Aurora, ON), have identified multiple anomalies over the 20.7 square kilometre Miller hydrothermal lump/vein graphite property. Of greatest significance is a large anomaly that extends from the previously announced (VN1) graphite vein discovery for 285 meters (m) to the southeast and 15 m to the northwest. This large anomaly, located within the eastern claim block, is elongated towards the east and also correlates with a magnetic gradient. This can be explained by the main source of the anomaly dipping east or by the presence of other smaller anomalies on the east flank. The VN1 discovery is located on the eastern flank of the anomaly and this area is now being surveyed by beep-mat combined with trenching. To date, 40 m of the anomaly's 300 m length has been trenched by working on the vein discoveries. The main anomaly is still being explored; however geophysical modeling should give the location and depth of its source.
R. Bruce Duncan, CEO & Director of Canada Carbon stated, "The fact that our largest and strongest electromagnetic anomaly leads right to our active trenching at the VN1 vein system is very exciting. It points to significant upside for further expansion of the VN1 vein system, as well as for additional discoveries as we look for the source of the 300 meter anomaly. In addition, other anomalies revealed through the survey show enough size to further justify exploration over each of them. The Company is very pleased with the high-precision and high- quality data collected to date which will allow us to focus on the most promising targets for additional graphite vein discoveries."
Geotech is expected to produce the final data maps, along with the selection of high priority anomalies which will allow us to choose specific targets to model within the next 4 weeks. The Company's technical team found three additional anomalies in the immediate vicinity of the VN1 anomaly, for a total of four anomalies, which are completely or partly on land where a surface access agreement has been obtained (see news release, September 5th) and so are the subject of exploration at this moment. Two are located 360 m and 680 m to the southeast of the trenching area and are 240 m and 80 m long, respectively. Many old exploration pits with graphite blocks are in the area of these anomalies. The fourth anomaly is 730 m north east of the trenching area and will be explored by drilling since no outcrop is present on site. That anomaly is 150 m long.
The Company's west claim block shows seven anomalies but the interpretation of Geotech will be important in confirming those anomalies as being from a bedrock source, since many other anomalies are related to cultural effects. Initial prospecting will be conducted on each target area to determine a priority for future work. The completion of the modeling by Geotech will also help in determining targets to explore while trenching continues.
Environmental Work
The Company has engaged Geostar Inc. (Brownsburg-Chatham, QC) to perform evaluation of the property for bog land and humid vegetation areas. The report shows that no such land is present in the work area. The Company will also initiate the evaluation of a river located 250 meters north of the currently worked area, consisting of sediment and water sampling to determine whether contamination exists from the historic mining operations.
Rémi Charbonneau, Ph.D., P. Geo #290 (an Associate of Inlandsis Consultants s.e.n.c.) is an Independent Qualified Person under National Instrument 43-101, and has reviewed and approved the technical information provided in this news release.
On Behalf of the Board of Directors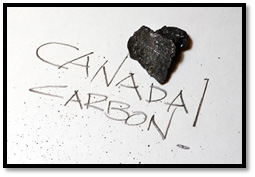 CANADA CARBON INC.

"R. Bruce Duncan"
Interim CEO and Director
Contact Information
E-mail: info@canadacarbon.com
P: (604) 638-0971
F: (604) 638-0973
"Neither TSX Venture Exchange nor its Regulation Services Provider (as that term is defined in the policies of the TSX Venture Exchange) accepts responsibility for the adequacy or accuracy of this release."
FORWARD LOOKING STATEMENTS: This news release contains forward-looking statements, which relate to future events or future performance and reflect management's current expectations and assumptions. Such forward-looking statements reflect management's current beliefs and are based on assumptions made by and information currently available to the Company. Investors are cautioned that these forward looking statements are neither promises nor guarantees, and are subject to risks and uncertainties that may cause future results to differ materially from those expected. These forward-looking statements are made as of the date hereof and, except as required under applicable securities legislation, the Company does not assume any obligation to update or revise them to reflect new events or circumstances. All of the forward-looking statements made in this press release are qualified by these cautionary statements and by those made in our filings with SEDAR in Canada (available at www.sedar.com).