Press Releases
Canada Carbon to Attend Advanced Battery Trade Show
September 10th, 2013, Vancouver, BC, Canada – Canada Carbon Inc. (the "Company") (TSX-V: CCB) is pleased to announce its attendance at the Advanced Battery Trade Show at booth #B1713 in Novi, Michigan occurring September 17th – 19th 2013. The Advanced Battery Show is the premier showcase of the latest advanced battery technology. With more qualified buyers than any other event in North America, the Advanced Battery Show is an excellent platform to showcase the company's recent high grade graphite discovery at the Miller hydrothermal lump/vein graphite property located 80 km west of Montreal, Quebec.
R. Bruce Duncan, CEO & Director of Canada Carbon stated, "We are delighted to have the opportunity to showcase our unique graphite which is very amenable to purification by producing a pre-leach concentrate of over 99% Cg to the battery industry. Attendees at the Battery Show will be interested in the unique properties of the Company's graphite and the value proposition we can deliver relative to our largely Chinese competition."
The Battery Show is attended by technical leaders, scientists, engineers, project leaders, buyers and senior executives concerned with advanced energy storage and will present the very latest advanced battery solutions for electric & hybrid vehicles, utility & renewable energy support, portable electronics, medical technology, military and telecommunications. The Battery Show is also a supply chain event, featuring the latest technology from raw material and equipment suppliers to testing and recycling services.
With the recent popularity of electric and hybrid electric vehicles, the demand for high quality graphite has and will likely continue to significantly increase globally. By weight, there is at least 20 times more graphite than lithium used in lithium-ion batteries found in these vehicles amongst the many other products such as power tools, laptop computers and smart phones.
Currently, China produces over 70 percent of the world's graphite supply and now has added a 20% export duty on graphite, as well as a 17% VAT, and has instituted an export licensing system. These factors are creating serious supply concerns for the rest of the world.
On Behalf of the Board of Directors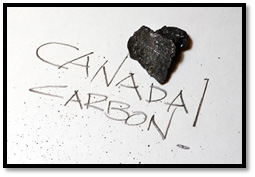 CANADA CARBON INC.

"R. Bruce Duncan"
Interim CEO and Director
Contact Information
E-mail: info@canadacarbon.com
P: (604) 638-0971
F: (604) 638-0973
"Neither TSX Venture Exchange nor its Regulation Services Provider (as that term is defined in the policies of the TSX Venture Exchange) accepts responsibility for the adequacy or accuracy of this release."
FORWARD LOOKING STATEMENTS: This news release contains forward-looking statements, which relate to future events or future performance and reflect management's current expectations and assumptions. Such forward-looking statements reflect management's current beliefs and are based on assumptions made by and information currently available to the Company. Investors are cautioned that these forward looking statements are neither promises nor guarantees, and are subject to risks and uncertainties that may cause future results to differ materially from those expected. These forward-looking statements are made as of the date hereof and, except as required under applicable securities legislation, the Company does not assume any obligation to update or revise them to reflect new events or circumstances. All of the forward-looking statements made in this press release are qualified by these cautionary statements and by those made in our filings with SEDAR in Canada (available at www.sedar.com).