Press Releases
Canada Carbon to Commence Diamond Drill Program at "Miller" Hydrothermal Lump-Vein Graphite Discovery
August 6th, 2013, Vancouver, BC, Canada – Canada Carbon Inc. (the "Company") (TSX-V: CCB) is pleased to announce it has contracted George Downing Estate Drilling Ltd. of Grenville-sur-la-Rouge, Quebec to complete at least 350 meters (m) of NQ sized diamond drill holes (DDH). The meterage will be divided in eight (8) shallow holes to test the graphitic veins previously disclosed (see press release dated July 25th 2013) at depth and along both its north and south extensions. The work is expected to begin during the week of August 5th and completed within a week's time.
Initial structural studies indicate that the veins belong to the regional NW Grenvillian fault system and, therefore, the Company believes this graphite-bearing faulting system could extend to considerable depth.
One DDH will be used to test the longitudinal continuity of the main vein and of the mineralized structure at depth by drilling it down dip through the vein. Three (3) DDH will test the continuity of the main vein by intersecting the extension of the vein at depths of 10m, 20m and 50m. The latter DDH's targeting 50 m depth is also expected to intersect the extension of the other smaller graphite veins that run parallel or at a 60 degrees angle to the main vein found. The four (4) remaining DDH holes will target the northwest and southeast extension of the main vein at a depth to be determined from results of the previous DDH.
R. Bruce Duncan, Interim CEO & Director of Canada Carbon Inc. stated, "We are very pleased to have retained George Downing Drilling to conduct the initial drill testing of our Miller high purity hydrothermal graphite discovery. Drilling will be underway shortly and will focus on testing several of our 17 recently identified EM anomalies. Drill testing the extension of the graphite vein system will allow an estimation of the quantity of vein material present within this particular area of the Miller Property. We also anticipate the results from our recently flown VTEM airborne survey to provide extensive insight into new prospective areas of interest on the Miller property."
Core splitting and sampling will be done on site and sent to Actlab of Ancaster, Ontario. Analysis of samples will be for graphitic carbon (Cg). Duplicate samples will also be submitted to comply with the Company's QAQC program. The remainder of the core will be tagged and stored on site.
Rémi Charbonneau, Ph.D., P. Geo #290 (an Associate of Inlandsis Consultants s.e.n.c.) is an Independent Qualified Person under National Instrument 43-101, and has reviewed and approved the technical information provided in this news release.
About Miller Graphite Mine
The Miller Graphite Mine, located in Grenville Township in Quebec is a past graphite and mica producer with unknown graphite reserves remaining. This mine was worked around 1845 and was probably the first graphite operation in Canada. The quantity of produced graphite is unknown but it is reported that 25 rail cars of lump graphite were shipped from this deposit in the year 1900 and sent to the Globe Refining Company of Jersey City, N.J. This yielded thirty-two tons of clean crucible graphite. The Morgan Crucible Company of London and also J.H. Gauthier and Company, Jersey City, used some of this graphite in their crucibles and pronounced it equal to the best graphite known to come from Ceylon (now Sri Lanka). The property covers 15.3 km2 of land and is located 80 km west of Montreal. A main road, located approximately 800 metres from the deposit, is connected by a gravel road to the deposit allowing very easy access. A power line also crosses the property 500 metres south of the deposit. There is no certainty that further exploration will result in the development of similar deposits.
On Behalf of the Board of Directors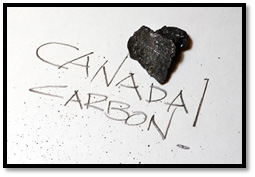 CANADA CARBON INC.

"R. Bruce Duncan"
Interim CEO and Director
Contact Information
E-mail inquiries: info@canadacarbon.com
P: (604) 638-0971
"Neither TSX Venture Exchange nor its Regulation Services Provider (as that term is defined in the policies of the TSX Venture Exchange) accepts responsibility for the adequacy or accuracy of this release."
FORWARD LOOKING STATEMENTS: This news release contains forward-looking statements, which relate to future events or future performance and reflect management's current expectations and assumptions. Such forward-looking statements reflect management's current beliefs and are based on assumptions made by and information currently available to the Company. Investors are cautioned that these forward looking statements are neither promises nor guarantees, and are subject to risks and uncertainties that may cause future results to differ materially from those expected. These forward-looking statements are made as of the date hereof and, except as required under applicable securities legislation, the Company does not assume any obligation to update or revise them to reflect new events or circumstances. All of the forward-looking statements made in this press release are qualified by these cautionary statements and by those made in our filings with SEDAR in Canada (available at www.sedar.com).