Li-ion Applications
Consumer Electronics
Li-Ion batteries are most common in consumer electronics, with Laptop batteries being the largest segment. The more advanced Li-Ion Polymer batteries which can be formed to be very thin and flexible, are found in devices like the iPad, iPods and Smartphone's. With the astronomical growth of this segment, battery production has also grown exponentially.
Healthcare
The US government has set aside $22 Billion for technology improvements to implement electronic medical records (EMR) which involves collecting data at the point of care or at the patient's bedside in hospitals. This requires mobile power in laptops for up to 18 hours or more, which no laptop battery can provide. Hospitals have used Li-Ion external batteries which provide additional six hours of run time which is inadequate for EMR. Sealed Lead Acid (SLA) batteries mounted on mobile carts are also used but not preferred, due the inherent drawbacks of the SLA battery. Li-Ion batteries are growing in popularity as they are lighter and have a lower cost of ownership. Current demand in this sector is valued at over a Billion dollars.
Automobiles
The electric car has been the biggest catalyst for the growth of Li-Ion battery manufacturing. There are two main categories in automotive sectors. Pure electric vehicles (BEV) like the Chevy Volt, Nissan Leaf and Mitsubishi iMiev, and Plug in Hybrids (PHEV) like the Toyota Prius. Fleet truck owners are also converting vehicles to BEV's with Pepsi, UPS, and FedEx leading the way.
Most PHEVs on the road today are passenger cars, but there are also PHEV versions of commercial vehicles and vans, utility trucks, buses, trains, motorcycles, scooters, and military vehicles. In addition to the car manufacturers with vehicles on the road already, almost all major manufacturers are developing BEV's or PHEV's. Major scooter manufacturers like Oxygen, Peugeot have launched electric scooters. Brahma and Zero have launched electric motorbikes. Harley Davidson has also joined the fray. The increasing cost of gasoline coupled with the lower cost of producing Li-Ion batteries will spur growth in mobility sectors.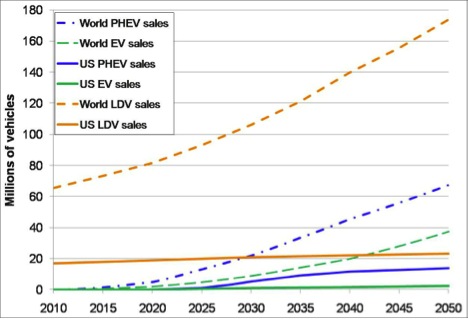 Light-Duty Vehicle Sales Projection to 2050
Source: International Energy Agency
Materials Handling
Forklift and lift truck manufacturer like Toyota Industries, Kion Group and Jungheinrich have all introduced Li-Ion battery powered lift trucks for use in warehouses. Prototype forklift trucks with Li-Ion batteries are being tested and will be commercialized soon.
Marine
Lead acid batteries shave long been used in boats, yachts and ships. Li-Ion batteries are making inroads here also. Beneteau has launched yachts with Li-Ion batteries. Wartsila is testing Li-Ion batteries.
Energy Storage - Grid
Following Automobiles, the Energy storage sector is growing by leaps and bounds as major utilities are installing Li-Ion battery storage systems to harness excess power generated by the grid. These systems are many times larger than automotive batteries and are often housed in 40 foot long containers. California, Arizona, and New York have installed Li-Ion storage batteries and in Canada, Toronto Hydro has placed orders. Other States and Provinces in US and Canada are exploring the feasibility.
Energy Storage - Home
Home energy storage is gaining popularity in Europe and Japan. Panasonic and Kyocera have launched Li-Ion battery storage systems.
Telecommunications
The rapid growth of mobile phone users worldwide, has led to a massive surges in construction of cellular transmission towers which have traditionally used lead acid batteries for emergency power storage. Weight, size and short cycle life of the lead acid battery is prompting telecommunication providers to switch to Li-Ion batteries. This sector is still emerging and demand is expected to grow manifold in years to come.
Further reading:
http://en.wikipedia.org/wiki/Lithium-ion_battery
http://en.wikipedia.org/wiki/Lithium_polymer_battery
http://electronics.howstuffworks.com/everyday-tech/lithium-ion-battery.htm
http://www.apple.com/batteries/
http://batteryuniversity.com/learn/article/is_lithium_ion_the_ideal_battery