Press Releases
Canada Carbon Files PEA Technical Report on SEDAR
April 14th, 2016, Vancouver, BC, Canada – Canada Carbon Inc. (the "Company") (TSX-V:CCB) is pleased to announce that it has filed on SEDAR the National Instrument 43-101 ("NI 43-101") technical report for the Preliminary Economic Assessment ("PEA"), disclosed in the Company's news release dated March 4th, 2016, for its flagship 100% owned Miller hydrothermal disseminated and lump vein graphite and architectural marble Project located 80 kilometres ("km") west of Montréal, near Grenville, Québec. The PEA technical report was prepared in accordance with the Canadian Securities Administrators' NI 43-101 regulations by the independent engineering firm Tetra Tech of Vancouver, British Columbia, in conjunction with SGS Canada Inc. ("SGS") of Blainville, Québec. SGS is co-author of the technical report, and is responsible for the Miller graphite and marble Project's mineral resource estimates contained therein.
Canada Carbon Executive Chairman and Chief Executive Officer Mr. R. Bruce Duncan stated, "We are pleased to be filing our PEA which will provide the investment community with a thorough review of the Miller project and its robust economics."
The report is available under the Company's profile on SEDAR and on the Company's website via the following link: http://www.canadacarbon.com/docs/Miller-PEA.pdf
Dr. John Huang, P.Eng., of Tetra Tech, is a Qualified Person as defined by National Instrument 43-101 ("NI 43-101") guidelines, and has reviewed and approved the technical related content of this news release.
About Canada Carbon Inc.
The 100%-owned Miller hydrothermal disseminated and lump-vein graphite and architectural marble Project is located approximately 7 km from the centre of the town of Grenville, Québec. The Miller Project, which is the subject of the PEA and resource estimate, occupies less than ¼ km2 surrounding the historic Miller Pit, within approximately 100 km2 of the mineral claims package held by the Company. In addition to the Miller Pit, numerous other historic graphite mines, exploration pits, and showings lie within the Company's mineral claim package and will become the subject of prospective exploration activities. Geophysical anomalies similar to the Miller Pit signature also add a significant number of exploration targets in additional to the historical showings.
The Miller Project has exceptional infrastructure already in place, situated within 2 km of major highways, rail, power and water. Paved roads come within 800 metres of the Miller Project development area, and abut or cross the claim boundaries in many places. Existing forestry roads crisscross the property, permitting vehicle access with very low impact on the environment. All mineral claims lie on private land.
A pilot plant scale flotation concentration program was conducted by SGS Canada (Lakefield), based on a blended 127 tonne sample obtained from all known graphite exposures at the Miller Project. The pilot plant concentrate graded 95% Cg or higher, and a run of mill concentrate sample was upgraded to 99.9998% Cg by commercially available thermal upgrading techniques. The Company thereafter received a pricing letter for the 99.9998% purity graphite, assigning a market value of US$12,000-14,000/tonne for the high purity material. Upon request by ASTM International, a US based international standards organization, the Company submitted samples of the thermally upgraded Miller graphite (99.9998% purity), for the development of a new nuclear standard test method for natural graphite. Four international laboratories, with membership in Subcommittee D02.F0 on Manufactured Carbon and Graphite Products of ASTM International, have completed the round-robin testing of the Miller graphite. The Company currently awaits the final ASTM report, certifying both the material and the new test method.
On November 16th, 2015 the Company signed a comprehensive agreement to sell 75,000 tonnes of architectural-quality marble material from the Miller property. This agreement was signed subsequent to an independent market assessment of architectural blocks of the Miller marble, which is the host rock of the Miller hydrothermal disseminated and lump-vein graphite. The agreed base valuation for marble blocks or slabs is $14 per cubic foot, which is approximately $184 per tonne.
On behalf of the Board of Directors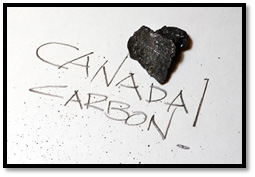 CANADA CARBON INC.

CEO and Director
Contact Information
E-mail inquiries: info@canadacarbon.com
P: (604) 685-6375
F: (604) 909-1163
"Neither TSX Venture Exchange nor its Regulation Services Provider (as that term is defined in the policies of the TSX Venture Exchange) accepts responsibility for the adequacy or accuracy of this release."
FORWARD LOOKING STATEMENTS: This news release contains forward-looking statements, which relate to future events or future performance and reflect management's current expectations and assumptions. Such forward-looking statements reflect management's current beliefs and are based on assumptions made by and information currently available to the Company. Investors are cautioned that these forward looking statements are neither promises nor guarantees, and are subject to risks and uncertainties that may cause future results to differ materially from those expected. These forward-looking statements are made as of the date hereof and, except as required under applicable securities legislation, the Company does not assume any obligation to update or revise them to reflect new events or circumstances. All of the forward-looking statements made in this press release are qualified by these cautionary statements and by those made in our filings with SEDAR in Canada (available at www.sedar.com).